Cookie preferences
This website uses cookies, which are necessary for the technical operation of the website and are always set. Other cookies, which increase the usability of this website, serve for direct advertising or simplify interaction with other websites and social networks, will only be used with your consent.
TurboFloorPlan 3D Home & Landscape Pro 2017 for Mac, English
Prices incl. VAT plus shipping costs
Item number:

241821687

Runtime:

Lifetime

Laguage(s):

EN

Countryzone(s):

Worldwide
The Complete Home & Garden Design Software Solution! Award-winning professional...
more
Product information "TurboFloorPlan 3D Home & Landscape Pro 2017 for Mac, English"
The Complete Home & Garden Design Software Solution!
Award-winning professional home & landscape design software
No previous interior design software experience necessary
Includes everything from 2D blue prints to detailed 3D home design & landscaping
Create your dream home in a few simple steps, then add furniture, lighting & decor
Create the perfect outdoor living space – add plants, furniture, sheds & decking
Preview your designs with photorealistic 3D visualisation tools

New!

Customizable Plant Sizing

New!

Material Editor

New!

Shutter Tool

New!

3D Cutaway Tool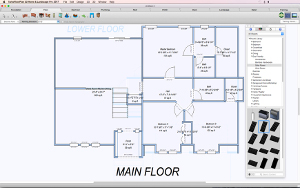 The Professional Home Design Solution
TurboFloorPlan 3D Home & Landscape Pro 2017 is the easiest way to design your dream home! Plan all phases of your home from foundation, HVAC, electrical, and plumbing to the walls, windows, doors and custom roof. Visualise a new kitchen, bath, or room addition with custom cabinets, lighting, furniture and appliances. Create "colourboards" of your favorite paint colours, flooring, windows treatments… then swap in one click! Even design outdoor landscaps including decks, fences, paths, lawns and gardens with custom topography and outdoor lighting. It's everything you need!
Home Design
Remodel
Decorate
Landscape
No Experience Required
We consider this our professional version, but only because it offers the most easy-to-use features. Even a novice can get started right away!
QuickStart™ for a simple way to create custom home designs
Floor Plan Trace to scan and trace your own floor plans
Professional Designed Home Plan Templates
Tips and Tricks offer help with the specific tool you're using
Training Center with over 100 videos to boost your skills
Thousands of drag-and-drop symbols
Powerful Features
TurboFloorPlan does the work so you don't have to. It's got all the tools you need to quickly and easily design your dream home! 2D/3D design with precise auto-dimensions
Automatic cost estimator and "Building Green" design tips
Design Tools, Landscape Tools, Building Structure Tools
Interior and Exterior Lighting Simulations & Fixtures
Multiple ways to view your TurboFloorPlan Design
Home Design Features
Start Designing Your Dream Home Today
TurboFloorPlan makes it easy to start designing now! Access professionally designed templates, hundreds of training videos, thousands of drag & drop symbols, and much more.
Over 100 videos guide you through program features.
QuickStart™ custom home designer lets users simply select a room, click and drag it to a custom size, then drag more rooms into position.
Professional designed home plan templates that are completely editable.
Floor Plan Trace allows you to to scan and trace your own floor plans.
Dimensions change in real time as you make adjustments to rooms.
Tips and tricks offer help on-the-fly with the specific tool you're using.
Build Green button for eco-friendly advice as you design.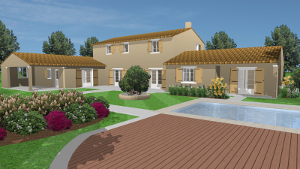 Plan All Phases of your Home
Create blueprints with layers in order to plan all phases of your home design or remodel including:
Foundation – Specialized tools for slabs with support beams, foundation peers, and more.
Electrical – Comprehensive indoor/outdoor library
Plumbing – Extensive library of fixtures including "Smart" objects that attach to walls for easy editing.
HVAC – Design the ultimate system for comfort and maximum efficiency.

Flexible Home Design Tools
Whether you started with one of the predesigned templates, the QuickStart™ tool, or other, TurboFloorPlan makes it easy to customize your home to your exact specifications.
AutoFraming™ with Framing Editor™ - Customize stud spacing and materials (steel, wood, etc) for roofs, walls and floor joists. Insulate with one mouse click.
Windows & Doors - Choose from a variety of styles including designer brand name products and simply drop them into self-healing walls.
Walls - Customize walls with faux finish, paint, wallpaper, and other materials.
Stairs - Click and drag traditional, curved, or circular styles. Add landings, railings, balusters…all elements can be customized to your spec.
Roofing - Standard or complex, preset roof tools make any roof style easy to create!
Decorate or Remodel
TurboFloorPlan Pro offers thousands of decorating and remodeling possibilities. Many of the product libraries include nationally-recognized, brand name objects or materials you can try before you buy. TurboFloorPlan even includes "green" objects and materials such as recycled glass counters, bamboo cabinets and flooring.
Furniture – Adding furniture, cabinets, and appliance is as simple as drag-and-drop.
Objects – Fixtures, lighting, ceiling fans, sinks, and more for every room in your home.
Flooring – Try tile, carpet, wood, stone, and more, even area rugs.
Trim – Add polish to designs including wainscot, baseboards, or crown molding for walls
Accessories – Dress windows with stylish blinds, draps, or shutter.
Lighting – Use the Precision Lighting Planner™ to view the effects of ambient light, shadows, falloff, radius, sunlight, and more.
Materials – Choose from a variety of brand name materials and paint colors, or use the Material Importer™ to photograph and save a material to be added to your design.
Cabinet Designer™
Choose from a wide selection of drag-and-drop cabinets and customize materials, colors, handles and knobs, shelving, drawers, and appliances. This tool is great for kitchen and bathroom remodels, but also for perfect for remodeling offices, hallway storage, media centers and garage organizations.
3D Library Catalog Support
Download and import new objects into your library dynamically. Update your library with new objects to put the finishing touches on your project. Also, the recently re-organization library simplifies searches for plants, materials and objects. Use view library and preview before choosing a category in the library navigation window.
Estimator - Automatic room cost estimates
Estimator tallies and saves square footage, flooring, paint and other area data about your design in a spreadsheet format, in real–time, as you draw. Add pricing information and you'll have a budgeting snapshot of your project. Estimate costs for individual rooms, landscape, or your entire house.
More tools for easy designing
Create "colorboards" of your favorite paint colors, wood floors, carpet, wall coverings and apply them instantaneously to any room. Options to define colors and materials. Try different combinations before you commit. Easily replicate your favorites in other rooms. .
QuickPallet™ decorates an entire room in one mouse click!
Drag the ProjecTape™ precision tool anywhere in your drawing for real-time measuring, indoors or out.
Save time with MyStyle creating default colors and material choices before you begin designing.
Use RoomView™ for wide angle 3D viewing making it easier to see inside small spaces.
Build virtually any object or modify existing objects from a library with the 3D Custom Workshop™
Use the SmartWand™ technology to see how one individual color or material can change your whole look..
Build a 3D model of your home design with RealModel®
Garden Design and Landscaping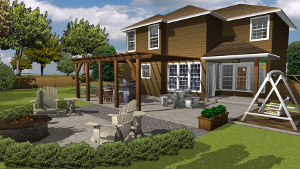 Deck Templates
Get started FAST! Predesigned, drag & drop, editable designs you can use as-is or customize to your personal style!
IntelliDeck™
Intuitively follows the shape of your house, as you draw. Create simple or complex shapes in seconds.
Auto Edging and Planting Templates
Professionally designed, zone specific plant groupings with simple drag-and-drop placement. A variety of shapes of freestanding, corners, and more.
Rock Your World!
Unlimited design possibilities! Mix plants, rock, mulch, pavers, brick and other realistic materials to created unique shapes, paths and flower gardens. All types of objects are included in the libraries, or photograph your favorites and add them!
Fence Designer™
Versatile tool lets you design fences with any custom material, color, or photo object — even draw your design freehand!
Global Sun Positioning™
Precision tool aligns your property to ANY location you specify, including date and time of day. View the effects of sun angle, positioning, location, and shadows.
Visual Array Tool™
Automatically adds plants or objects along a straight path with user-defined spacing. Perfect for interior shelving, too.
Background Importer™
Import photos of skies or other backgrounds for a real-world effect you can view inside or out.
Hardscapes
Build dramatic retaining walls that define and accent your home. Choose stone, brick, or other materials. Then add your plantings to finish the look.
Growth Tool
See how your plantings will look years from now! Use with Global Sun Positioning™ to view the effects of shade in your design.
Topo Designer™
Add real-world topography to your building site. Automatically cuts or adds fill and building pad to your design.
PlantFinder™
Design beautiful landscapes with a multitude of trees, shrubs, flowers, and vegetation. PlantFinder makes it easy! Sorting feature lets you select growing parameters, International zones, sunlight, climate, water, and soil conditions. Color-coded zone maps make plant selection easy and foolproof. Photo-realistic images of real-world plants can be viewed from any angle. Even get complete information about every plant in the database with the Plant Details dialog.
Plant Importer™
Easily add your favorite plant…from your photograph! Expand plant database to virtually limitless custom choices. Add your favorite plant to your virtual landscape. Custom plants are included in Estimator.
PhotoView™ incorporates your pictures
Just need to add a decorative landscaping to your existing house? Take a picture of your existing home and easily add it with PhotoView™! Definable shadows make your home and new landscape design come to life!
New Features
Home Design
New! 64-bit Architecture
TurboFloorPlan Mac has been rewritten to fully support 64-bit operating systems. This greatly improves the performance speed of the software and improves user productivity.
New! Content Library System
Download and import new objects into your library dynamically. Update your library with new objects to put the finishing touches on your project
New! Automatic Gables
Automatic gables save time creating the roof panels. The Dormer tool offers Hip, Gable, Shed, and Eyebrow styles. Automatically set the rotation angle, pitch, and elevation of dormers to match the roof.
New! Material Editor
Easily edit materials to customize your designs. Edit RGB values, Hue, Saturation, Brightness, Shadows, Midtones, Highlights, and Gamma Correction.

New! Shutter Tool
Easily add shutters that automatically size to your windows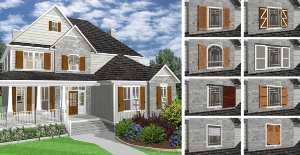 New! Double Doors and Mounting Options
Add double doors and mounting elements quickly and easily.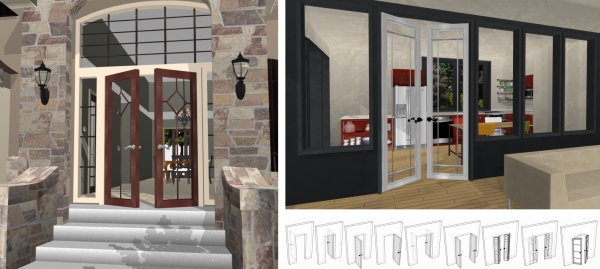 Interior Design
New! 700+ 3D Furnishings
This huge selection of new 3D objects allows users to add realistic dimension and detail to projects. Add your own personalized touch to every room. Discover a treasure drove of furniture pieces, fixtures and accessories.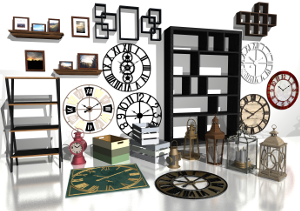 Interior lighting fixtures, and exterior, floor, hanging, scones and wall lighting fixtures
Home décor: Baskets, boxes, candles and holders, clocks, mirrors, shelves, frames, vases, bowls, pots, planters, pillows and blankets
Cabinet and door hardware
Exercise equipment and exterior furniture
Game room / music room objects
Children's room / nursery room objects
Kitchen and dining room tables, chairs, buffets, and accessories
Living room chairs, furniture sets, tables, sofas and loveseats
Bathroom accessories: bathtubs, mirrors, showers, sinks, faucets, vanities
Bedroom accessories: beads, dressers, chests of drawers, matching sets, nightstands
New! 1800+ Materials
A reorganized and consolidated material library is easier to use. High resolution textures give unprecedented realism. Find just the right look for every part of your project.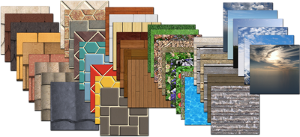 Fabric and upholstery
Tile patterns: hex, diamond, and hopscotch
Roofing: barrel, flat and scalloped tile
Wood patterns: weathered, plank, basket weave, herringbone and plaid
Landscaping: Grass, mulch, plant cover, rock, water, concrete
Art collection of miscellaneous pieces
Sky and more backgrounds
Over 1,200 modern paint colors
New! 1200 Paint Colors
You'll have no problem finding exactly the right paint color now for your interior walls. This new collection of 1,200 paint colors has something for everyone.
New! Wall Heater Tool
TurboFloorPlan Home & Landscape 2017 for Mac now offers an extended wall heater style library in the HVAC planner.
New! Column Tool - Add column element quickly and easily.
Landscape Design
New! Customizable 2D Plant Symbols
Create your own custom drawn 2D plant symbols or customize existing onesNEW Sample Floor Plans - Having trouble deciding on a style for your dream home? TurboFloorPlan Mac 2017 offers a new selection of sample plans including Caribbean Modern, Chateau, Colonial, Contemporary, Country Farmhouse, French Country, European Cottage, Tudor, Tuscan, Modern and more!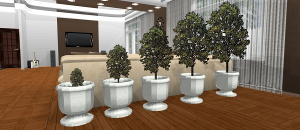 New! Customizable Plant Sizing
Customizable Plant Sizing allow you to set the exact plant size needed for your design

New! Plant Inventory Bar to quickly inventory your plants and adjust as needed.

New! Landscape and Patio Grouping

Other Features
New! 3D Cutaway Tool
Cut form any angle, vertically or horizontally, at a specific elevation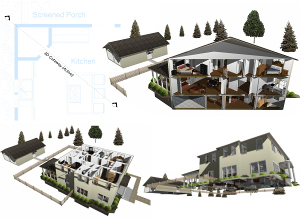 New! Import Sketch Up Models
Compatible with new Sketchup formats and easily edit objects within the program
New! Retina Compatible User Interface
TurboFloorPlan Mac now offers a more up-to-date Mac-friendly user interface with retina display compatibility for the sharpest imagery.
New! Enhanced Tool Drawing Methods
Easier and more efficient drawing methods (shapes) and dimensioning along with automatic snapping and alignment all based on the updated 2D Drawing Engine for easier and more efficient designing and editing
New! Dimensioning Options - Editing and annotation tools offer a variety of improvement including:
Improved! Polygon tracking dimensions - Dimension lines and text are positioned to reduce overlapping.
Tracking dimensions correctly offset by thickness of wall.
When tracking or an attachment is selected tracking dimensions appear. (light blue dimensions)
Distance to end point of wall segments are now dimensioned.
Tracking dimensions are offset correctly to avoid overlapping with wall dimensions.
Dimension to next attachment is smarter. For example windows dimension only to windows and doors. Attachments on opposite side of wall are ignored.
Tracking dimensions are now drawn on same side as attachment
Dim placement takes into account attachment depth.
Only attachments on this side of wall are detected by dimensions.
Improvements to tracking dimension placement on non-polygons.
Laser Line Improvements
New! Redesigned User's Guide
System Requirements
| | |
| --- | --- |
| Version | 2017 |
| Platform | Mac OS X 10.9 Mavericks, Mac OS X 10.10 Yosemite, Mac OS 10.11 El Capitan, Mac OS 10.12 Sierra |
Macintosh® OS X 10.9 or higher
Intel® Core™ Solo processor or faster
256MB VRAM
2.5 GB Hard Disk Space
512MB RAM, DVD-ROM
1024x768 millions of colors display resolution
keyboard and mouse
How and when do I get my purchased product?
Digital products, product keys and access to the download center will be made available to you by email immediately after your purchase - unless a data medium has been ordered.
What payment options are available to me?
PayPal, Amazon Pay, Instant bank transfer, Credit card, Apple Pay, Prepayment, Purchase on invoice
What guarantees do I have at Blitzhandel24?
Blitzhandel24 is an EHI, TrustedShops and CHIP certified online brand shop. Blitzhandel24 also offers its customers permanent support, as well as support for the purchased product. If a product has not been used / redeemed, our customers can benefit from the money-back guarantee.
Related links to "TurboFloorPlan 3D Home & Landscape Pro 2017 for Mac, English"
Read, write and discuss reviews...
more
Customer evaluation for "TurboFloorPlan 3D Home & Landscape Pro 2017 for Mac, English"
Write an evaluation
Evaluations will be activated after verification.