Cookie preferences
This website uses cookies, which are necessary for the technical operation of the website and are always set. Other cookies, which increase the usability of this website, serve for direct advertising or simplify interaction with other websites and social networks, will only be used with your consent.
Ashampoo WinOptimizer 18
€29.95 *
€49.99 *
(40.09% Saved)
Prices incl. VAT plus shipping costs
Item number:

241820946

Manufacturer No:

4250949206322

Runtime:

Lifetime

Laguage(s):

All languages

Countryzone(s):

Worldwide
Ashampoo® WinOptimizer 18 Pre-order now and save money! The system...
more
Product information "Ashampoo WinOptimizer 18"
Ashampoo® WinOptimizer 18
Pre-order now and save money!


The system optimization that takes your computer further
One for all: Optimal for Windows 7, Windows 8 and Windows 10!
Windows is good - but it could be better! Ashampoo® WinOptimizer 18 does it for you! Because operating systems become slow, faulty and accumulate data garbage over time. Important setting options are missing or they are hidden deep in the system. Privacy is also threatened, especially Windows 10 transmits more data than users are comfortable with.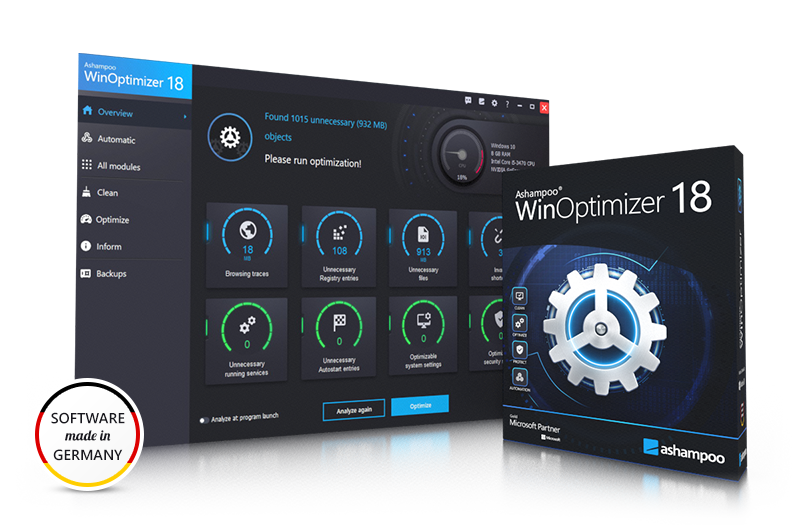 System tuning, deep cleaning and system information in one software!
| | |
| --- | --- |
| | Dashboards for always up-to-date data and quick access to the most important modules |
| | Brand new defrag without noticeable system load |
| | Quickly merge free space in Defrag |
| | Detailed disk analysis & information in Defrag |
| | Practical Benchmark Center with more overview and faster access to the tests |
| | Improved system information with optimal hardware detection |
| | All cleaners up to date |
| | Full support for Microsoft Edge Chromium |
| | More found surfing traces due to new algorithm in Internet Cleaner |
| | Improved Browser Extension Manager |
| | More details on the hardware used in system analysis |
| | Faster start of different modules like Disk Doctor |
| | Detailed analysis protocols |
The quick start into a better Windows!
Even the first start shows you the full power of the optimization possibilities of Ashampoo® WinOptimizer 18! Eight major problem areas of Windows can be analyzed in depth with one mouse click and then solved immediately. Whether data garbage like browser tracks is swept off the hard drive or unnecessary registry entries, shortcuts or services are deleted, WinOptimizer 18 makes your Windows faster, leaner and safer. Optimize security settings, system settings and autostart with one click! With a clean startup and more free memory, your computer simply runs better. Of course, all functions and already optimized for the latest Windows updates!
For up to 10 PCs in one household
| | |
| --- | --- |
| | If you use Ashampoo® WinOptimizer 18 privately, you can equip 10 of your computers with one license! Buy only one license and your whole family will benefit from a slim, fast and secure Windows! Only for commercial use: one license, one installation. |
Brand new: Dashboard overviews
Dashboards are the express route to important overviews and functions. Under Tidy, Optimize and Inform you always get up-to-date overviews of the crucial data in these areas - and have direct access to details and functions! You no longer have to open the modules themselves to always have a perfect overview! Look forward to valuable information, perfectly prepared. Is the registry clean? Are there any superfluous services or is privacy threatened? You can see all this at first glance and with one click you are in the module you are interested in. Experience Ashampoo® WinOptimizer in a whole new way!
Defrag at the latest level
With WinOptimizer 18 we say goodbye to the old Defrag and set off for new shores! The new Defrag does not slow down your computer, but works highly effective in the background! We use the Windows algorithm and enable functions that are otherwise not available! Merge free memory, start Defrag and Analysis automatically and let the low-priority process work imperceptibly while you use the computer undisturbed. And SSD hard drives are also taken care of: With SSD-Retrim the full capacity of the drive is used and performance and lifetime are noticeably increased!
Freshly programmed: Our cleaners!
The cleaners are probably the most popular modules of the WinOptimizer series. That's exactly why we are continuously working on them! With version 18 the new Microsoft Edge Chromium is now supported for the first time. The popular Internet Cleaner goes with new algorithm even more successfully on the hunt for data garbage and knows all locations of the latest browser versions. Let new modules search your system for surfing traces, unnecessary files and orphaned entries in the registry, freeing up valuable space on your hard drive! All functions are also directly accessible via the dashboard "Clean up"!
All system values at a glance
Ashampoo® WinOptimizer always shows you comprehensively and always up-to-date what is going on on your computer. If the health values of your hard disks change, you will be warned immediately and can act in time. Simply identify bottlenecks and sources of error in your system and find potential for improvement. If you want to know which files are using a lot of memory, which components are installed or which processes are running in the background, you will find all the information here! This area can also be easily found via the dashboard "Inform".
The Swiss Army Knife for your PC
Ashampoo® WinOptimizer 18 is much more than "just" a tuning and cleaning software, it contains 37 powerful modules. Whether you want to improve security and privacy or take a closer look at your system with smart analyses - WinOptimizer is the best choice. How you can recover data, securely delete them or largely silence the chattering Windows 10? It's all included! All modules are updated every year and perfectly adapted to new Windows updates. No system optimization software has such an enormous wealth of useful and helpful functions!
Save work and time automatically
With three automatic functions at once, the WinOptimizer 18 takes a lot of work off your hands! With Auto-Clean the data garbage is not only cleaned up - it does not arise at all. If you close your browser or any other program, the automatic broom whirls and sweeps from the hard disk what does not belong there. The Live-Tuner speeds up the start of applications in a clever way and can also be individually adjusted by you to give applications a special priority (and thus more performance). The Game Booster closes everything the system doesn't need to play, so you have full power for the game! If you quit the game, all background services will be restarted and you can continue working normally.
Every Windows Update at a glance
Microsoft Windows always gets new updates and features - and Ashampoo® WinOptimizer too! Our team of developers will make sure that your computer works optimally even if it has just received an update. Windows 10 has received more than a dozen updates within one year and we analyze each one meticulously. Continuous updates keep your WinOptimizer up to date, no matter how Windows changes. Also errors, which result from current updates, are found and eliminated, because WinOptimizer does not only clean, it is also a PC repair program!
Leave unwanted extensions in the browser no chance!
The browser is not only your window to the Internet, it is also threatened by extensions that slow it down or spy on data. Everybody knows toolbars, less known are the countless extensions that make no sense to you, but threaten performance and privacy. Many are not even shown as installed by browsers! The Browser Extension Manager puts an uncompromising end to this. Without exception, you see all extensions installed on your browsers and then decide for yourself! Which extension do you need, where can you find unknown or unwanted extensions? With just one click, unnecessary extensions are deleted and your browser is much cleaner again!
Maximum security and optimal privacy!
Windows collects too much data from you and makes false compromises in security. Especially Windows 10 sends too much data. With the modules Win10 Privacy Control and Antispy, both included in the program, you get back control of your system! Determine yourself what passwords, telemetry data or photos your computer sends - or keeps for yourself. Toughen up when it comes to unwanted PC tracking, personalized advertising or curious programs!
Fascinating insights into an invisible world with the ADS scanner
Do you know of alternative data streams? With this function, data can be saved invisibly bound to a file, e.g. by the user. It can also be used to determine whether a file has been downloaded from the Internet or belongs to the system. The ADS scanner finds these otherwise invisible Alternate Data Streams (ADS) and displays them. Find out which data streams are on your computer and delete dubious entries!
Create maintenance plans in seconds - and then just let it run!
Many customers love the One Click Optimizer and system maintenance as indispensable cleaning and maintenance modules. They find surfing traces, hidden data garbage, superfluous registry entries and system settings that need improvement. With the practical task scheduling function, you can have these functions carried out automatically at freely selectable intervals. Simply keep your computer in top shape!
More power for your PC
Ashampoo system software always stands for high utility value and easy handling. Ashampoo® UnInstaller deletes programs down to the last byte and thus enables completely risk-free testing of any software. Delete even unwanted installed software safely with the multi-stage UnInstaller deep cleaning! Only an up-to-date system is fast and secure - that's why Ashampoo® Driver Updater constantly takes care of your computer. The software records all components of your PC and compares hardware with a constantly updated driver database. If there are new drivers, they are installed automatically. Simply keep your system up to date! Archives in all formats are the strength of Ashampoo® ZIP Pro. Compress and uncompress with the world's fastest ZIP engine and ensure space-saving storage and secure sending!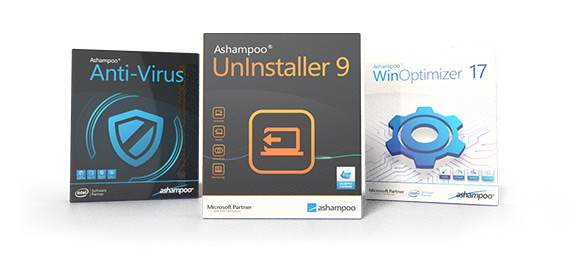 Maximum performance through first-class system optimization
The makers of Ashampoo® WinOptimizer 18 have come up with a lot of new ideas! Dashboards are your information centers on the most important topics and offer always current values and quick access to the functions! The new Defrag is far more powerful than its predecessor and even offers a feature to improve the performance and lifespan of SSD hard drives. The popular cleaning modules have been adapted to the latest browser versions and find more data garbage than ever!
| | |
| --- | --- |
| General information | |
| Dashboards for always up-to-date data and quick access to the most important modules | |
| Completely intuitive program interface | |
| Two skins (surfaces) to choose from | |
| Ready for the latest Windows updates | |
| Ingenious navigation bar with access to all functions | |
| Start page with eightfold optimization | |
| Brilliant display at any resolution and on any screen | |
| New operating concept | |
| Interactive start screens with problem analysis | |
| Effectively save energy and protect the battery | |
| Optimal game performance at the push of a button with the Game Booster | |
| Manage system policies conveniently with User Rights Manager | |
| More performance with less memory consumption | |
| Manage restore points conveniently with the System Restore Manager | |
| Speed up every program start with the Live Tuner as a helper in the background | |
| Assistant supported optimization | |
| Save and restore all changes with the backup management | |
| System maintenance | |
| Brand new defrag without noticeable system load | |
| Quickly merge free space in Defrag | |
| Detailed disk analysis & information in Defrag | |
| Practical task planner for maintenance and optimization | |
| Convenient management also for Opera Plug-Ins | |
| Improved Browser Extension Manager | |
| Automatic deletion of surf tracks and temporary files | |
| Current search algorithms for all Cleaner Modules | |
| Simultaneous system cleaning for all users of a PC | |
| Powerful Drive Cleaner for significantly improved results | |
| Remove Internet traces with the Internet Cleaner | |
| Clean up hard disks with the Drive Cleaner | |
| Optimize your Registry with the Registry Optimizer | |
| New filter options in search results for fast results | |
| Optimization with just one click using the One-Click-Optimizer | |
| File tools | |
| Improved speed through reprogramming | |
| Over 80 new, faster components | |
| Permanently destroy already unsafe deleted files with the improved File Wiper | |
| ExFat partitions supported | |
| Recover accidentally deleted files with the Undeleter | |
| Absolutely secure encryption and splitting of files with the File Manipulator | |
| Delete files safely and permanently according to military standards with the File Wiper | |
| Safely and permanently remove the contents of the recycle bin | |
| Detect invalid links with the Link Checker | |
| Overwrite free disk space and safely destroy old file remnants | |
| Encrypt and decrypt private files with the File Encrypter and Decrypter | |
| Split very large files for older file systems with File Splitter and Joiner | |
| Find duplicate files on your hard disk with Duplicate Finder | |
| System Analysis | |
| ADS scanner for invisible data streams | |
| Improved system information with optimal hardware detection | |
| All information of the system at a glance | |
| Support for extremely large partitions | |
| More information about current services | |
| New, fast DiskSpace Explorer | |
| Optimal support of solid state discs for longer life | |
| Innovative hard disk benchmark for detailed results | |
| Managing installed fonts with the Font Manager | |
| Detect hard disk problems before it's too late with HDD Inspector | |
| View disk space usage and find large files with DiskSpace Explorer | |
| Determine system performance with the system benchmark | |
| Compare results of the System Benchmark online | |
| increase performance | |
| Advanced Uninstall Manager with more important information | |
| Optimize the Internet connection with the Internet Tuner | |
| SSD Wizard for Solid-State Drives | |
| More speed by switching off unnecessary services with the Service Manager | |
| Speed up Windows startup with the StartUp Tuner | |
| View and manage running processes with the Process Manager | |
| customize Windows | |
| Better customize Windows 10 with new tweaks | |
| Maximum data protection under Windows 10 with Win10 Privacy Control | |
| More privacy with the AntiSpy module | |
| Change hidden Windows functions with the Tweaking Module | |
| Customize the right mouse button menu with the Context Menu Manager | |
| Changing file associations with File Associator | |
Thanks to our translators

English

German

Dutch (Guy Raedersdorf)

French (Guy Raedersdorf)

Hungarian (László Koncz)

Russian (Сергей Царёв)

Polish (Artur Krupa)

Italian (Severino Grandi)

Norwegian (Ulf Aasen )

Portuguese (Manuela Silva)

Spanish (Miguel Blasco)

Swedish (Lennart Pettersson)

Turkish (Çağdaş Tatar)

Czech (Libor Divis)

ChineseSimplified (Smilefly )

Japanese (Naoko Katayama)

Bulgarian (Chavdar Bozadzhiev)

Serbian (Ilija Komljenović)

Portuguese (Brazilian) (Josè Carlos Taveira)

ChineseTraditional (Alan)

Korean (pCsOrI)

Greek (Aldi Duzha)

Catalan (Joan Queralt)

Finnish (Veikko Muurikainen)

Serbian (Ilija Komljenović)

Spanish (Argentina) (Angel De Giorgi)

Norwegian Nynorsk (Olai Otterå)
System requirements
Operating System::
Windows® 10, Windows® 8, Windows® 7
Computer:
Any computer that supports the operating systems listed above.
Screen resolution:
1280x1024 - 100%
Miscellaneous:
Administration rights on the system are required to use the program.
An Internet connection is required to activate the program. The program license is checked at regular intervals.
How and when do I get my purchased product?
Digital products, product keys and access to the download center will be made available to you by email immediately after your purchase - unless a data medium has been ordered.
What payment options are available to me?
PayPal, Amazon Pay, Instant bank transfer, Credit card, Apple Pay, Prepayment, Purchase on invoice
What guarantees do I have at Blitzhandel24?
Blitzhandel24 is an EHI, TrustedShops and CHIP certified online brand shop. Blitzhandel24 also offers its customers permanent support, as well as support for the purchased product. If a product has not been used / redeemed, our customers can benefit from the money-back guarantee.
Related links to "Ashampoo WinOptimizer 18"
Read, write and discuss reviews...
more
Customer evaluation for "Ashampoo WinOptimizer 18"
From:
Hannes Meier
On:
3 Nov 2020
Sehr zufrieden!
Gutes Angebot,schnelle Kaufabwicklung,super Shop.

Write an evaluation
Evaluations will be activated after verification.