Cookie preferences
This website uses cookies, which are necessary for the technical operation of the website and are always set. Other cookies, which increase the usability of this website, serve for direct advertising or simplify interaction with other websites and social networks, will only be used with your consent.
Ashampoo Burning Studio 21 Download
€24.95 *
€49.99 *
(50.09% Saved)
Prices incl. VAT plus shipping costs
Item number:

241821013

Manufacturer No:

4250949206186

Runtime:

Lifetime

Laguage(s):

All languages

Countryzone(s):

Worldwide
Ashampoo® Burning Studio 21 Our best burning software The all-round service...
more
Product information "Ashampoo Burning Studio 21 Download"
Ashampoo® Burning Studio 21
Our best burning software
The all-round service for burning, backing up and processing your files
Treat your burner to the best burning program! The new Ashampoo Burning Studio 21 can also burn your data comfortably and safely, copies CDs, DVDs and Blu-ray discs without any problems and has first-class multimedia functions. You can easily create movies or slide shows, edit media or create video discs with animated menus. Automatically rip music CDs, make backups, and print covers for your projects with ease! Or back up important data to any media, optimally compressed and password-protected. Look forward to the brand new version of our best burning software!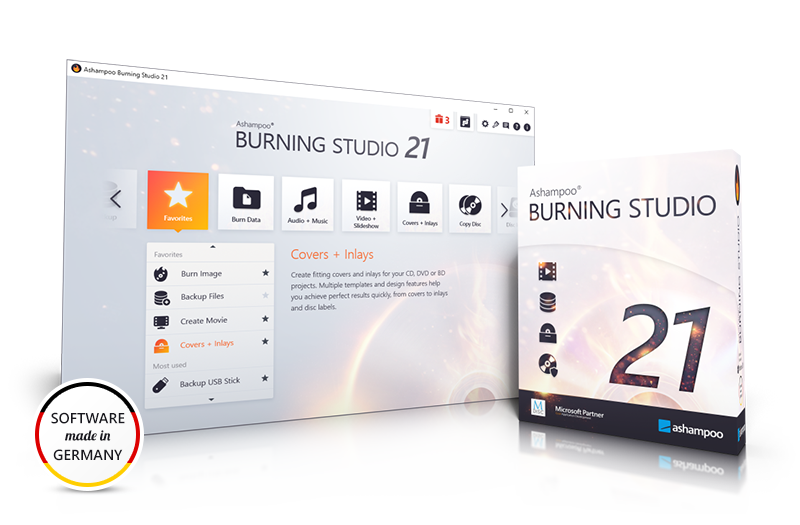 What does the Burning Studio look like? It looks great!
The Ashampoo Burning Studio 21 has a new user interface and it's really something! Instead of a normal menu, the burning program now has a so-called carousel, with which you can easily glide through all functions. For each feature you will find useful info texts so that you are always in the picture and can find everything quickly. You can now find all your favourite functions in your personal favourites list, individually compiled for ultra-fast access! And even the way to the start screen is now more convenient, with a home button you can return to the start from any menu. Of course, all visual innovations are only optional, you are welcome to continue using the classic menu!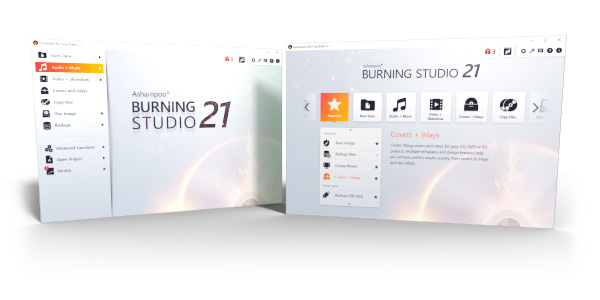 The simple burning software with many functions
Many users are surprised when they work with Burning Studio 21 for the first time. It's all so easy? Yes, because there are only three steps in the center. The selection of the files, how the program should process them and on which data medium they should be burned or saved. Create your own Video-DVD with an animated menu - with just a few clicks? Backing up a photo collection across multiple discs? With Ashampoo Burning Studio 21 anyone can do that! Although the program has a wealth of functions, you will always get to your goal quickly. This is guaranteed by the unrivalled logical structure!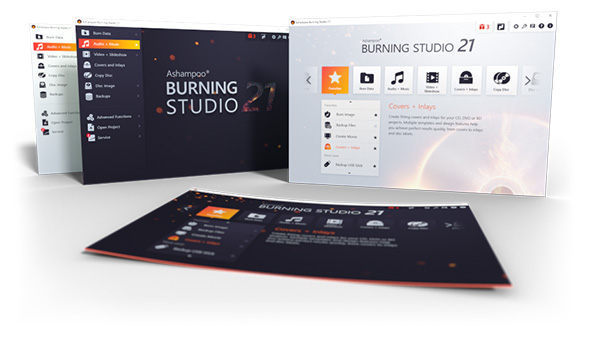 Easily create your own movies and slideshows
With the Burning Studio 21 there are no limits to your own creativity! Your films can be easily cut and provided with opening or closing credits. Videos that were recorded the wrong way round can now be rotated at the push of a button. With subtitles for explanation, ready-made themes or your own graphics, you can create your own individual project. Fascinate friends and family with your pictures and create impressive slide shows that are accompanied by music to capture your best memories. Use the brand-new image optimization, which enhances each of your pictures significantly! Whether family celebration, job or vacation, with this burning program you always achieve brilliant results!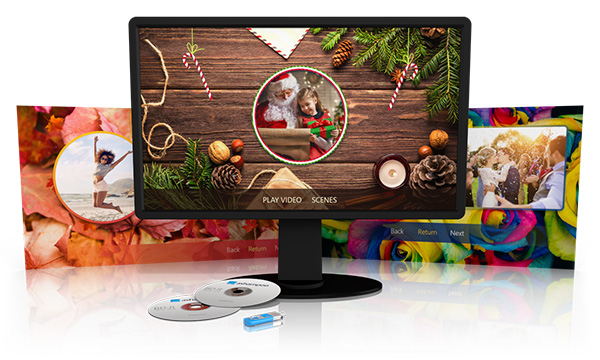 Create backups according to plan
Do you store your data in the cloud? Not everyone's cup of tea! Why not back up your data on CD / DVD or BD burned! With the practical backup plans you can burn important data even easier or save it on any hard drive. If desired, the program can even remind you when a new backup is due! So you can never forget a backup. Via the backup management you can view your backups and create new ones with just one click. It could not be more comfortable! And if something doesn't quite fit on the data medium, Burning Studio distributes the data automatically and safely for you. Compression and secure password protection included!
Relax and listen to music and audio books on your car radio
Anyone who compiles music for their car is often faced with a problem: Whether burned or on a USB stick, hardly any car radio masters all sound formats, the sorting is sometimes lost completely and the pieces are played wildly mixed up. The new Burning Studio 21 puts an end to this! For more than 1800 car radios, there are already custom-fit profiles available, so the number of supported devices has been increased significantly since version 20! Emulators of CD changers are also fully supported, so that the full functionality of these devices can be used. And for optimal audio quality in the car, there is an equalizer and the classic normalizing in addition. Listen to your songs and audio books on the road in the best quality and of course in the right order!
Reading CDs and burning music data
You want to rip your audio CDs? With the ingenious automatic feature of Ashampoo Burning Studio 21, reading out music and audio is lightning fast! Artist and title are recognized automatically, you don't have to enter anything by hand. Rip and save CDs in best quality, especially space-saving and in your desired format. Never again defective or unnamed files! Burn music CDs just as easily with this burning software, optionally with equalizer or volume adjustment for improved sound before a suitable cover goes to press. Sound good? Is good!
The right format ready for every film
Using the computer to create and burn video DVDs or Blu-ray Discs movie is a paradise discipline from Ashampoo Burning Studio 21! In order to burn your movies to disc compatibly for players, they must be converted from numerous formats to fit. With various popular formats like MPEG4, H.264 and AAC and sound formats like MP3, WMA, OGG and many more, you are always on the safe side with Burning Studio. From simple mobile phone recordings to ambitious hobby movies, Burning Studio 21 burns your projects comfortably and reliably!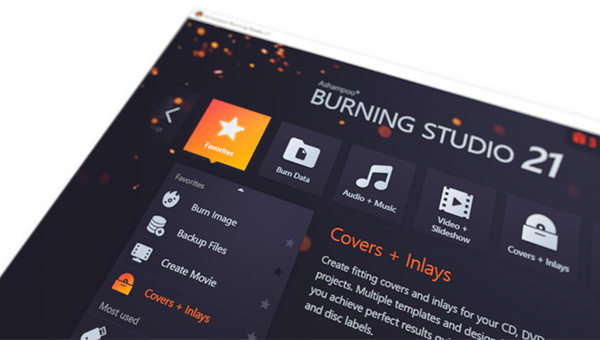 Even read damaged discs - thanks to scratch protection
With the proven scratch protection your data will always remain safe. Even clearly visible scratches lose their horror through repeated burning at different places on the blank! These High Security Discs can be used normally and show their special strength in an emergency: With a slim emergency program, which is burned onto each disc, data can be restored even if the disc is damaged. Ideal for important data, indispensable documents and valuable memories!
The easiest video editor ever!
A great strength of Ashampoo Burning Studio 21: There is the right way for every project. If it has to be fast, you can combine pictures and videos with a few clicks, add music if necessary - and the video is ready. No lengthy navigation through menus, no further input from you is necessary. Effective image transitions or the display duration of images can be individually adjusted if you want to put the finishing touches on your project - otherwise it's simply: Finish the film and off you go!
Comfortable working with disc images such as ISO or CUE/BIN
Especially for professionals, working with images like ISO, CUE/BIN or ASHDISC is a daily routine. With Ashampoo Burning Studio 21 anyone can easily handle such images, create copies and burn them onto any standard data medium. Image files can also be conveniently viewed, for image data there is even a handy preview. Even the creation of own images is possible without problems and saves time.
Create covers and sleeves for each disc
Creating covers and sleeves has always been a strength of Burning Studio. Already in the clearly arranged start menu you can comfortably choose which project you want to tackle and if necessary select professionally designed templates or your own pictures. Afterwards the program will take you step by step to the final result. Using the import function you can even have a CD read in and search for a finished cover or insert the song titles, e.g. as a track list. That saves time and effort! Whether you just want to create a cover quickly with automatic functions or create a very individual cover with attention to detail, the result will convince you!
Our multimedia programs
While Ashampoo Burning Studio 21 is our first choice in burning software, Ashampoo Movie Studio Pro 3 offers you high quality video editing with Dolby Digital, resolution up to 4K and turbo conversion. To enhance videos we recommend Ashampoo Video Optimizer Pro, with which you can easily stabilize, denoise and post-expose your recordings. Everything that is sound can be done by Ashampoo Music Studio 7. Whether you want to bring order to your music collection, try your hand at mixing or convert music files to another format, Music Studio is always a good choice!
The brand new version of the classic firing program!
As soon as you open the new Ashampoo Burning Studio 21 you will be positively surprised, a new surface in the modern carousel look welcomes you. Glide through the functions and read interesting information about the features! Your favourite features are instantly accessible on a favourites list and a home button allows you to return to the start screen at the touch of a button. There are also new features in the multimedia area: From now on you can also rotate videos and automatically optimize pictures for your slideshows in the program! Look forward to the brand new version of our best burning software!
| | |
| --- | --- |
| Burn files and folders | |
| Automatic distribution of data when the data medium is full | |
| Improved recognition of blanks | |
| Improved burning options for maximum compatibility | |
| Scratch protection for always available data even if the surface is damaged | |
| Safety Mode in Disc Spanning | |
| M-Disc support | |
| BDXL support | |
| Protect sensitive data from unauthorized persons with data medium encryption | |
| Automatic splitting of large amounts of data onto multiple discs with disc spanning | |
| Subsequent finalizing of CDs, DVDs and Blu-ray Discs | |
| Create CDs, DVDs and Blu-ray Discs with Auto Start function | |
| Create a data disc with an interactive menu that starts automatically when you insert it | |
| Create CDs, DVDs and Blu-ray data discs | |
| Update existing disc, add and remove files and folders | |
| Erasing of rewritable CD/DVD/Blu-ray discs as well as BD-RE and CD-RW | |
| Internal program features and functions | |
| Completely new surface in exciting carousel look | |
| Your favourite modules as favourites always at hand | |
| New navigation with quick return via home button | |
| New, clearly arranged editor for covers and sleeves | |
| Bright, high-contrast program interface for selection | |
| Optimized workflows for fewer clicks and waiting times | |
| Custom-fit profiles for more than 1600 car radios | |
| CD changer emulators fully supported in the Auto module | |
| consideration of numerous special cases in the Auto module | |
| Burning password protected data media | |
| Great burn history of the last 20 projects with restore option | |
| New and modern themes and templates for Cover Studio, slideshows and menus | |
| Extensive sound module for the car radio | |
| Easily import playlists for the car from iTunes or Windows Media Player | |
| Create your own playlists and play them in the car | |
| For the perfect MP3 stick : Correct format and order automatically! | |
| Easily extract graphics from MP3 tags | |
| Online cover search also for unknown tracks | |
| Fascinating mosaic covers | |
| Improved selection of burning options | |
| Customizable program interface through selectable skin | |
| Cover Studio: Printing and designing booklets, covers and labels | |
| Use your own, self-created program skins | |
| Working safely with Autosave | |
| Medium analysis | |
| Run long burns in Minimize mode and stay informed | |
| New improved file browser | |
| File browser individually customizable through favorites folder | |
| Access to external online sources and portable devices | |
| Burn movies | |
| Convenient video rotation | |
| Better slide shows thanks to brilliant image optimization | |
| Probably the easiest video editor ever | |
| New, modern themes for slideshow and disc menus | |
| Record live comments to match the slide show | |
| Faster encoding for many onboard cards with Intel Media | |
| Native MPEG4, H.264 and AAC support | |
| Smart wizard for creating perfect slide shows | |
| Convenient sorting functions for the images in slide shows | |
| More than 140 transitions for slide shows | |
| Professional fade in and out plus crossfading of music | |
| SRT support for subtitles | |
| Free download of themes | |
| Create your own themes for photo slideshows | |
| Encode movies up to 15% faster | |
| Sound effects for videos and slide shows | |
| Record sound over all installed Windows recording devices (in authoring) | |
| Adjust and normalize the volume of audio tracks of video files | |
| Create and save your own menu templates | |
| Create photo slideshow | |
| Move slideshow images by panning and zooming | |
| Cut or split movies | |
| Multi-core processor support for faster rendering and encoding | |
| Burn video Blu-ray from a prepared folder | |
| Burn a video DVD from a prepared folder | |
| Create Video CD (VCD) | |
| Create Super Video CD (SVCD) | |
| Creating a Start Menu for Video Disc | |
| Adding themes and subtitles to movies | |
| Memory images | |
| Create or burn disc images from CD, DVD and Blu-ray Disc | |
| Easier image creation | |
| Improved ISO browsing with image preview | |
| Search Disc Images | |
| Creating disc images from files | |
| Support for CUE+MP3, CUE+FLAC and CUE+WAV | |
| Burn or extract music | |
| New, precisely fitting profiles for car radios, CD changers and mobile data media | |
| Automatic equalization and adjustment of music files through equalizer | |
| Volume adjustment and normalization for MP3 and WMA files | |
| Shuffle function | |
| Pause length individually adjustable | |
| Support of APE file format | |
| Create playlists directly when extracting an audio CD | |
| OPUS file format support | |
| Automatic cover search function for disc ripping | |
| Extract music from an audio CD in FLAC and OGG format | |
| Create and burn audio CDs | |
| Create and burn audio CD from imported playlist | |
| Support of sampling rates up to 96kHz | |
| Apply metadata when converting WMA files | |
| Export tracklists | |
| Create an MP3 or WMA CD, DVD and Blu-ray Disc | |
| Extract music from an audio CD | |
| Back up files and folders | |
| Reliable backup with smart planning function | |
| Reminder function for backup plans | |
| 1-Click Backups for mobile devices such as smartphones and tablets (e.g. iPod, iPhone, iPad and Android devices) | |
| Create backups of files and folders | |
| Compress and encrypt backups | |
| Extended expert functions | |
| Creating a modified copy of a CD/DVD/Blu-ray Disc | |
| Jumplist support for express access to key features | |
| Define file system (ISO/Joliet/UDF) | |
| Creating a Bootable Disc | |
| Define emulation for bootable disc | |
Thanks to our translators

English

German

Dutch (Guy Raedersdorf)

French (Guy Raedersdorf)

Hungarian (László Koncz)

Russian (Сергей Царёв)

Polish (Jacek Milecki)

Polish (Artur Krupa)

Italian (Severino Grandi)

Norwegian (Ulf Aasen )

Portuguese (Manuela Silva)

Spanish (Miguel Blasco)

Swedish (Olle Ohlsson)

Turkish (Çağdaş Tatar)

Slovenian (Jadran)

Czech (Libor Divis)

ChineseSimplified (Smilefly )

British English (Chris Brooker)

Bulgarian (BgInterface)

Serbian (Ilija Komljenović)

Portuguese (Brazilian) (Josè Carlos Taveira)

ChineseTraditional (Alan)

Danish (Kjeld Børager)

Greek (Aldi Duzha)

Romanian (Andrei Grigorcea)

Catalan (Joan Queralt)

Vietnamese (XiongSoft)

Slovakian (Milan Slovák)

Finnish (Veikko Muurikainen)

Latvian (Voldemars Bulans)

Serbian (Ilija Komljenović)

Spanish (Argentina) (Angel De Giorgi)

Norwegian Nynorsk (Olai Otterå)
System requirements
operating system:
Windows® 10, Windows® 8, Windows® 7
software:
Windows Media Player 10
Microsoft .NET Framework 4.5
DirectX 9.0C
Working memory (RAM):
2 GB
Hard drive capacity:
250 MB free hard disk space for the program installation
9 GB free hard disk space for temporary files (DVD)
25/50 GB free hard disk space for temporary files (Blu-ray)
100 GB free hard disk space for temporary files (Blu-ray XL)
Video card:
DirectX 9 Hardware Pixelshader v2.0, min. 128 MB RAM.
sound card:
Standard sound card (e.g. OnBoard or USB adapter)
Miscellaneous:
An Internet connection is required to activate the program. The program license is checked at regular intervals.
An Internet connection is required for some services. An Internet connection may be required to check the serial number when using certain features.
How and when do I get my purchased product?
Digital products, product keys and access to the download center will be made available to you by email immediately after your purchase - unless a data medium has been ordered.
What payment options are available to me?
PayPal, Amazon Pay, Instant bank transfer, Credit card, Apple Pay, Prepayment, Purchase on invoice
What guarantees do I have at Blitzhandel24?
Blitzhandel24 is an EHI, TrustedShops and CHIP certified online brand shop. Blitzhandel24 also offers its customers permanent support, as well as support for the purchased product. If a product has not been used / redeemed, our customers can benefit from the money-back guarantee.
Related links to "Ashampoo Burning Studio 21 Download"
Read, write and discuss reviews...
more
Customer evaluation for "Ashampoo Burning Studio 21 Download"
Write an evaluation
Evaluations will be activated after verification.